A Letter to A Friend (01/12/20)
London, How to Manage, Accountability Partners, Burning Man.
Hey friend,
I hope January is going well.
I got back to London. Arrived on Jan 7th, planning to stay here for a while. Staying in my friend's apartment, at the Woodberry Wetlands neighborhood. It's a beautiful, quiet place with wide, two-meter windows, and warm floor. There's a small nature resort right in front of the building, with a beautiful lake and a hiking trail about 1k long. Great for running.
We're opening a small office here in London and moving into a bigger apartment on Jan 18th; will send over some pictures once we get it furnished.
Current mood: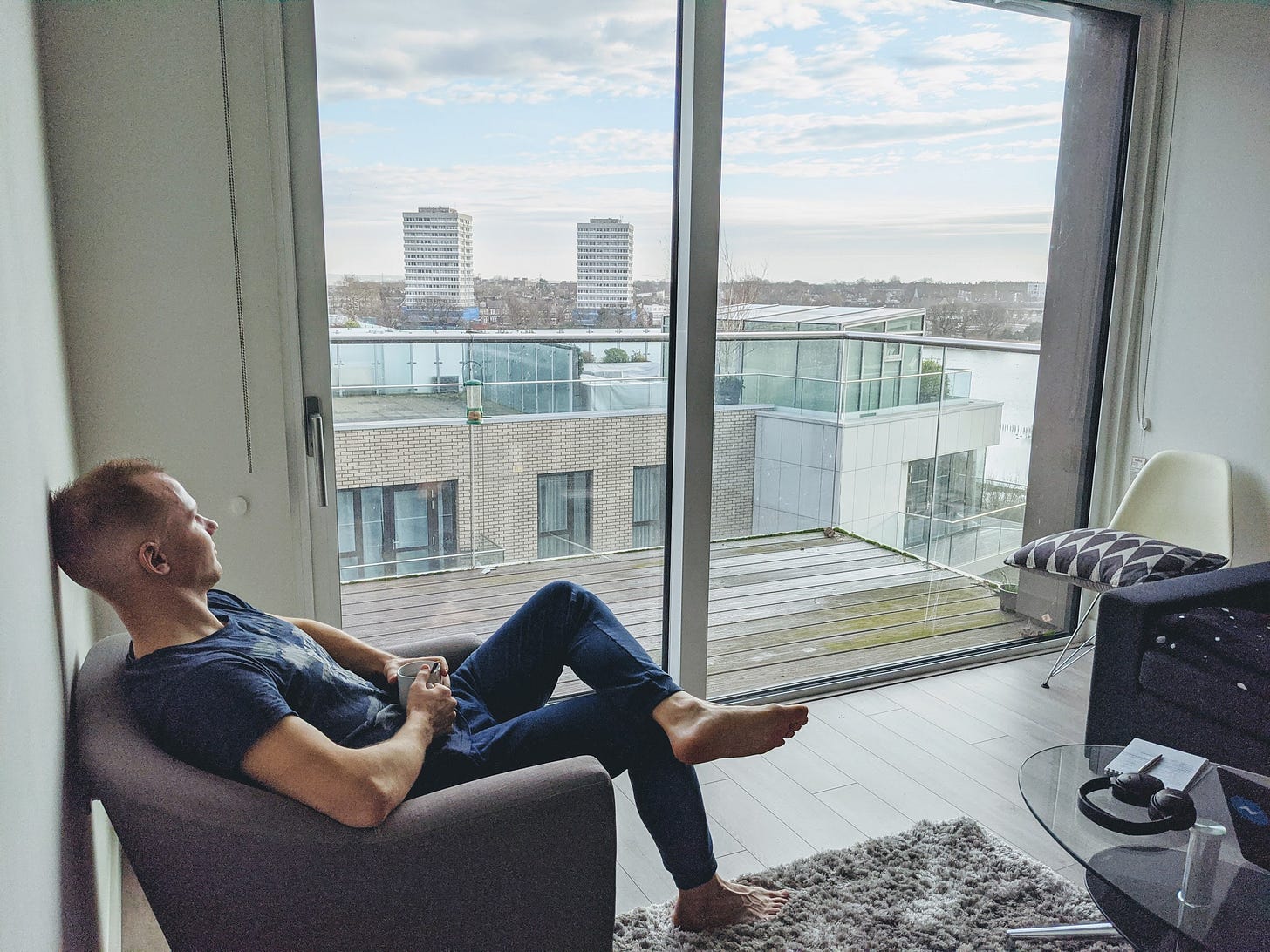 ---
Letters v1.1 update
Now a letter has three different sections: Learn, Think, and Work. Each part can be read separately. My goal is to make each section worth the value of the whole letter.
In the Learn section, you can learn something new and exciting about technology business. In the Think section, there's some food for thought. In the Work section, there are tools and systems I use to get more done.
I hope you'll like it. If not, please let me know by sending me a note to vasilishynkarenka@gmail.com or replying to this email. Thanks.
Learn
If a valuable employee asks for a raise, should you give it to her, negotiate, or let her go?
A friend of mine has got a problem. Her employee received a 2x offer and wants to accept it. The employee was honest and told my friend about the offer and added that she doesn't really want to leave, but she also cannot pass on the offer cause she needs that money. 
What do you do in this situation?
Last year I watched Ben Horowitz talking about the exact same problem at Stanford. He calls it The One Management Concept. 
Enter Ben:
"When you're making a critical decision, you have to understand how it's going to be interpreted from all points of view. Not just your point of view and not just the person you're talking to but the people who aren't in the room, everybody else. In other words, you have to be able, when making critical decisions, to see the decision through the eyes of the company as a whole. You have to add up every employee's view and then incorporate that into your own view. Otherwise your management decisions are going to have weird side effects and potentially dangerous consequences. It's a hard thing to do because at the point when you are making a decision, you're often under a great deal of pressure."
Here's how it works in real life.
If my friend gives the employee the raise she's asking for, then here's what other employees' perspective will be: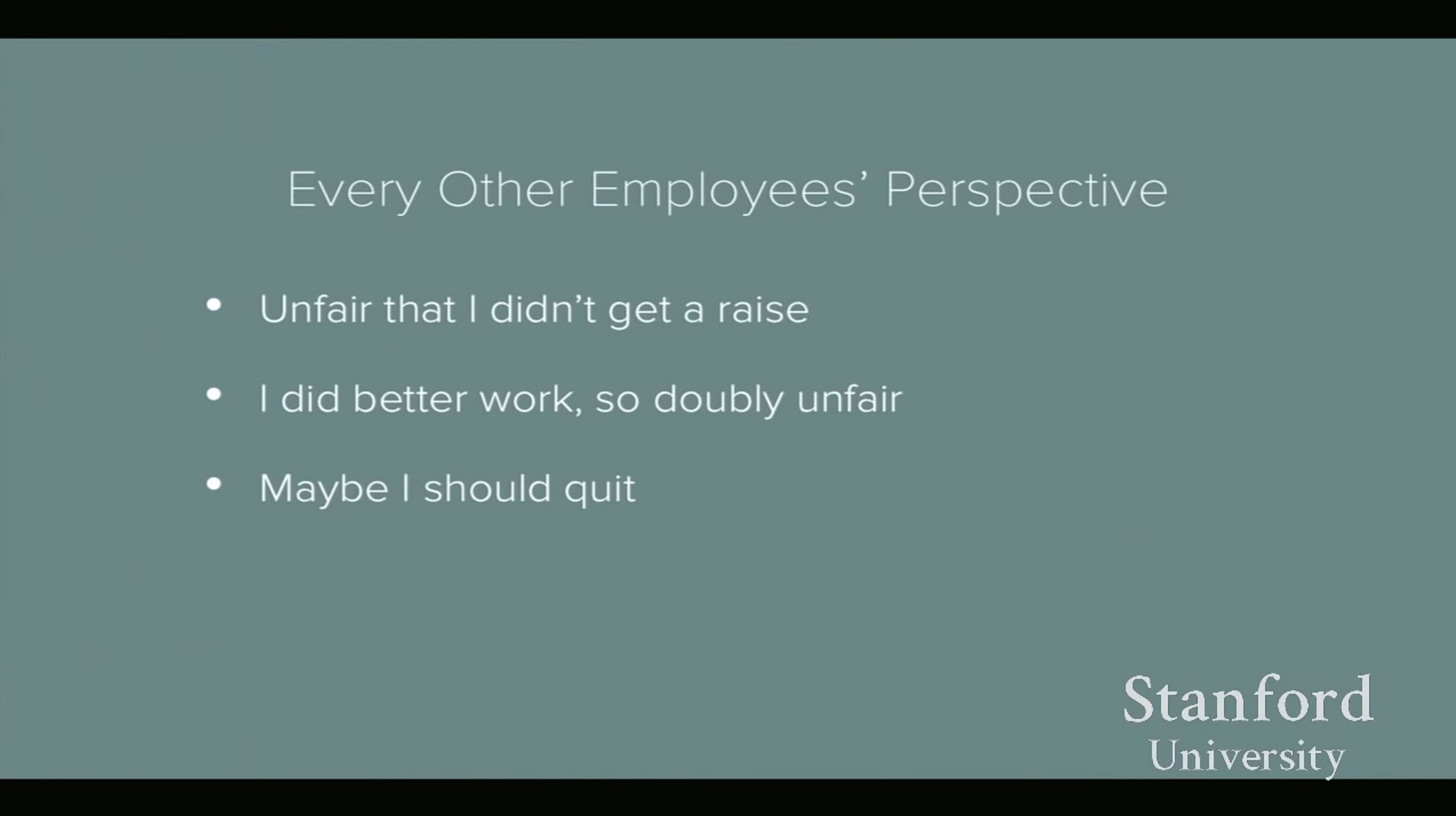 I highly recommend watching the whole thing.
Ben covers how to deal with raises and demotions, where the one management concept matters most and which are very emotional.
Besides that, it's just fun to watch him explaining some of the hardest management concepts using rap idols as an example and playing meme videos right on the scene. That's true mastery.
How to evaluate and pick markets? (or why sometimes you don't need an MVP)
When I first read Peter's book, Zero to One, a few years back, I was really excited. What he was saying just made perfect sense to me. 
But as I started seeing more real-life examples of how companies go to market, I noticed that large businesses were being created by not following the monopoly approach that Peter outlined. Some followed the exact opposite of Peter's approach. 
At first, it didn't make sense to me. But a few weeks back, I read a tweetstorm that beautifully outlined why there's a way to go to market by not building a monopoly and how to use it.
I'm not adding any summary here; just go read the whole thing.
Think
Should you work hard or smart?
There's a popular idea that great work can be done with little effort. Bullshit. Especially if you're starting out with a few people on the team. You indeed need to work smart, but not beyond "working smart" is an excuse for not doing the work.
PG has a great tweet on that:
I really felt it this week when I got back to London.
On Thursday, I closed 15 hours of work, and it was the most productive day I've had in months. No distractions. I know it's cliche, but you need to work hard if you want to get somewhere.
P.s. I noticed a correlation between heart rate variability during the day and how much stuff I get done. When I'm procrastinating and constantly shifting attention, my heart rate is chaotic. When I'm in the flow, it's much more like a flat line.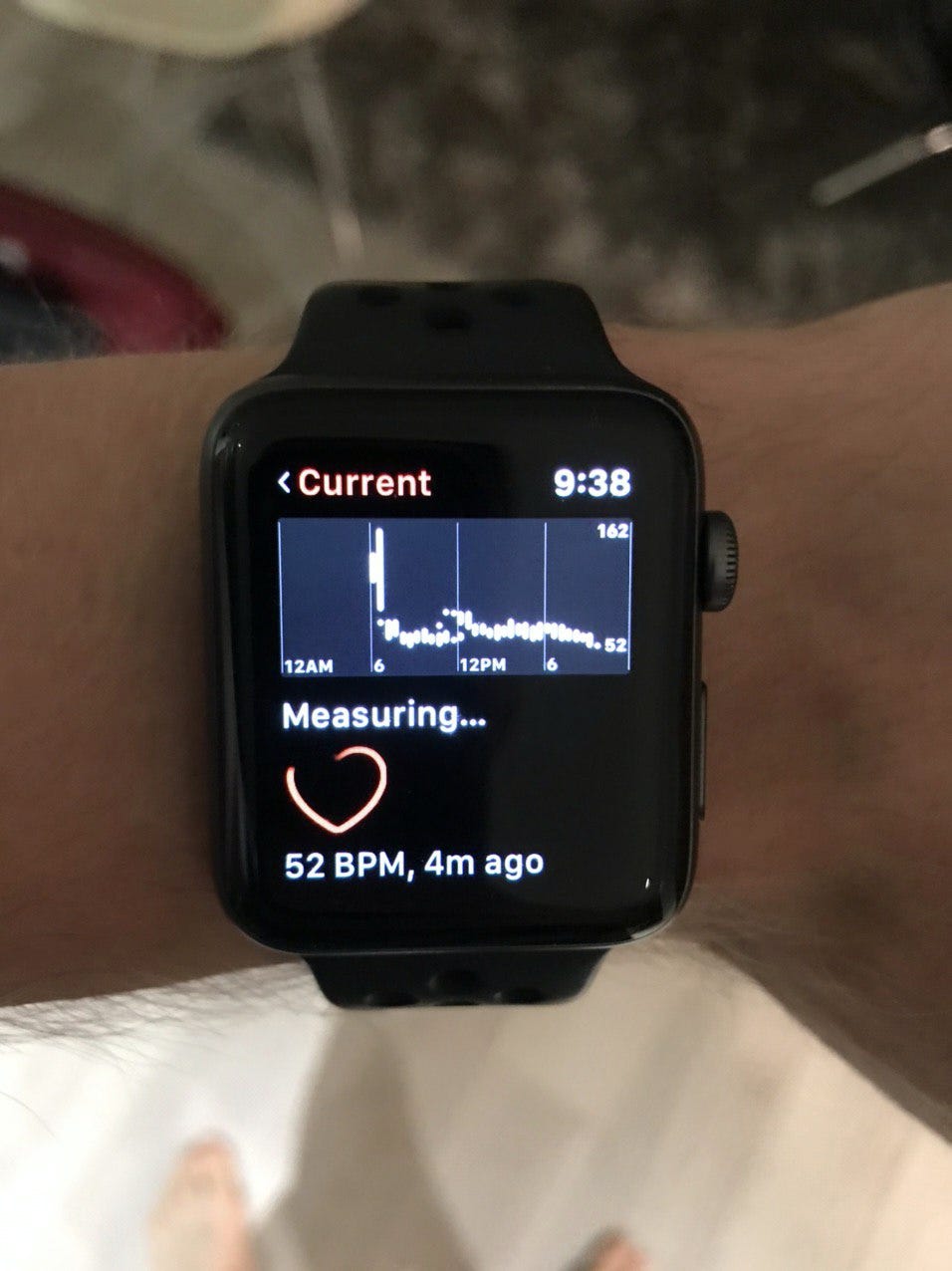 Work
How to get 2x more done with a 2-min-a-day routine
"When performance is measured, performance improves. When performance is measured and reported back, the rate of improvement accelerates." — Pearson's Law
Peer pressure is the best way I've found to keep myself accountable and stick to the plan. It worked for me when I wanted to start waking up at 5 am and run every day.  This month, I decided to try it out for work and started consistently producing 2x of my usual daily results.
Here's what you need to do.
First, you need to find an accountability partner (AP). AP is a person who keeps you accountable for your plans and actions. 
Here're the qualities to look for in your AP:
Responsibility

Ability to understand your goals (if you're a CEO and your AP is a dancer, it's not gonna work)

Ability to criticize your actions 
If you can find a person you're afraid to disappoint, that's even better.
Once you find the right person, you need to agree that you'll keep yourself accountable for the tasks that both of you plan for the day.
Here're the rules:
At 10 am every day, you send each other short texts where you mention three things you plan to do today. Both I and my AP like to add an objective for the day; it helps to structure work and get important stuff done first.

At 9 pm, you text back daily results — what worked, what didn't work, and how you could've made this day better. Explaining in detail what you've accomplished and why you didn't do the things you promised to do is a powerful self-discovery tool.

Also, at 9 pm, you send a draft plan for the next day. This is critical; having a rough outline for what you aim to accomplish the following day will save you hours because you won't have to spend mental energy on this in the morning.

On weekends, you text each other three big todos for the next week. Zoom/in-person meetings work better because real-time communication frees up constructive criticism.
Ben Hardy wrote an excellent in-depth article on how and why it works.
P.s. If you'd like to try it out but don't have the right person to do this with, I'm happy to be your accountability partner. Send me an email to vasilishynkarenka@gmail.com, and we'll set it up.
Create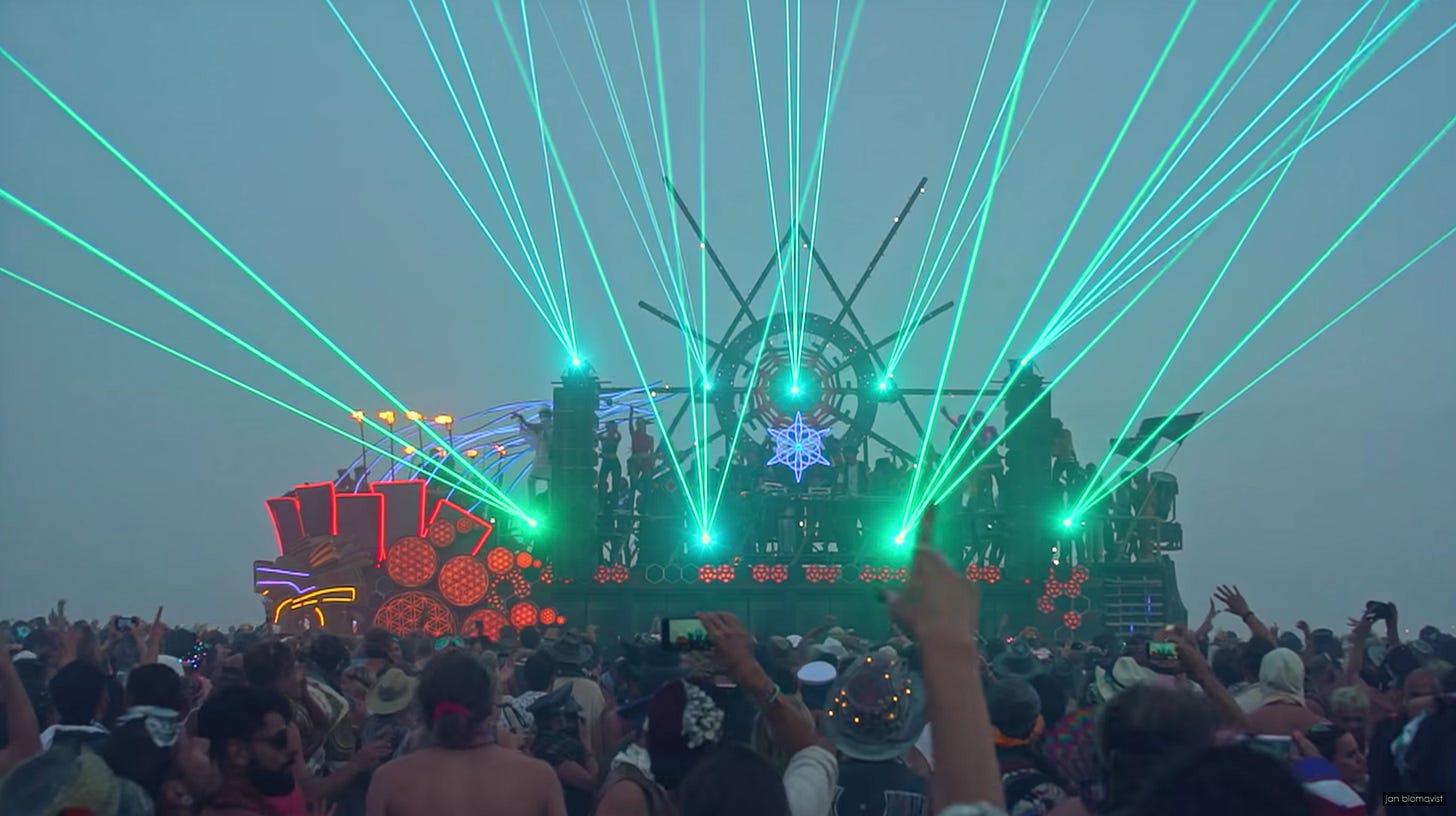 This is one of the best live trance music sets I've listened to ever.
It's great for work, but you can also switch to the video to feel the energy. Somewhere close to the end, Jan says: "This is why we live." 
Thanks to Sofi for sharing this.
---
I'll finish this letter with one of my favorite quotes:
"Do not go where the path may lead, go instead where there is no path and leave a trail." — Ralph Waldo Emerson
Enjoy your weekend,
Vasili