A Letter to A Friend (12/01/19)
Michael Dearing, $200m Productivity Framework, Real Problems.
Hey friend,
I haven't written a word in the past two weeks.
This was on purpose; I wanted to see if my sole focus on work will yield non-linear results. It did, even in this short timeframe. But it also made me unhappy.
Sharing knowledge is my raison d'être, and I don't feel I'm living a full life when I stop doing it.
I first thought about this two years ago, when we just moved to San Mateo and joined the Boost VC accelerator. We worked in the basement all day long, and there were all these quotes about business everywhere. When I first saw this one, I immediately felt it was special, but I didn't realize how much impact it would make on me.
The letters are coming back. Here's what's up.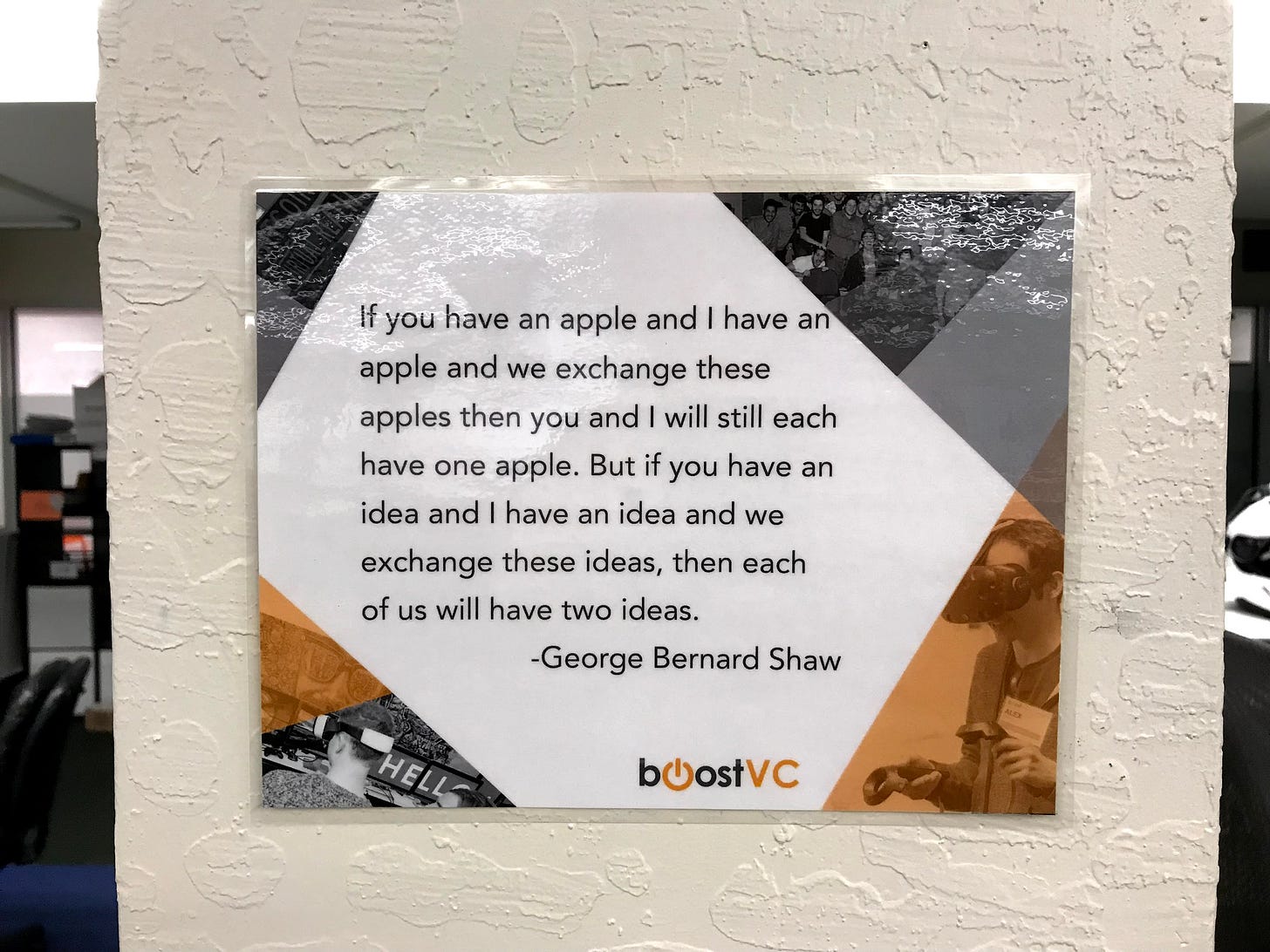 ---
Learning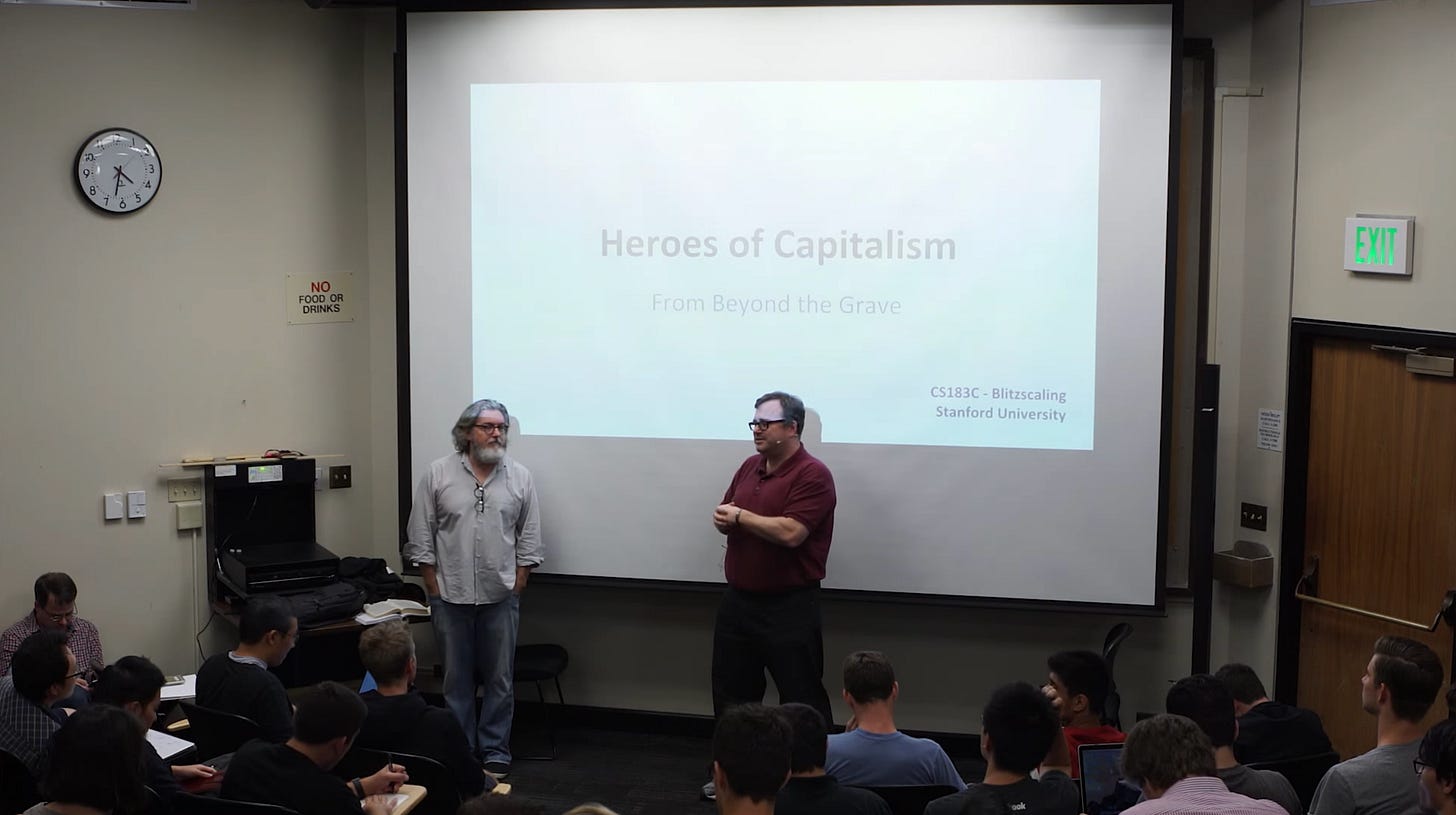 Michael is a venture capitalist and a great thinker. He talks about why capitalism matters and how startups actually started back in the 1800s.
Three things that stuck out:
Devil's Advocate. When you're just starting out, find the smartest person you can, and assign him to work for two days and try to torpedo your idea. Important: give them permission to be the biggest asshole and play really negative (social importance).
Pre-Mortem. Let's admit that we failed. Now, let's write a pre-mortem and try to understand what were the reasons (risks). After that, we may continue working on an idea, or we may stop, but we should have shock absorbers ready for these deadly risks that would've killed our idea in the future.
Competition. The perfectly competitive product that promises what your product promises is almost always not the actual competition. It's always that the substitute for buying your thing is doing nothing or hacking the solution in their daily life. "What's occupying my target user's attention today?" — because this what you're competing against; if you can answer that question, that's a lot more valuable than a competitive matrix that a consulting firm would do.
How CEO of a $200m Business Works Productively
My close friend runs a $200m business with almost 200 employees.
Some time ago, we talked about productivity, and he shared his routine. It's dead simple and works.
---
I have a backlog of tasks in Trello. I add new ones right when they show up. Every morning I do a quick review to set tasks for the day. Most of the tasks from the backlog never get done. 
Here's my process:
(Most important, but only if you have a team) Is there someone who can do this without me or under my control? If yes, then I delegate the thing.

If a task takes more than 30 mins, does it objectively impact our long-term goals, or is it a "head-on-fire" problem (i.e., not to make the issue any worse: fire someone who's underperforming or fix a critical software bug). If yes, then I do the thing.

If a task takes less than 30 mins, I answer the following questions. If there's at least one "yes," I don't do the thing.

Is this task someone else's priority, and its existence is a matter of external pressure?

Is this task just entertainment (me having fun and enjoying myself), but does not impact our business results? Note from Vasili: this is the bucket where I found most of my tasks are hanging out.

Is this a task that won't cause any problems if I just don't do it?
Curiosities
What problem are you solving?
I spent a great deal of time thinking about this in the past few weeks, and I hope these thoughts can spark your curiosity as well (especially if you're making a startup or thinking about one).
When people think about startups, they tend to think about ideas. That's actually what stops many people from starting one; they don't think they have an amazing idea that will take over the world.
But let's drill down into this mystical idea concept for a minute. 
What is a startup idea? I like Kevin Hale's definition: it's a hypothesis. Startups are all about growth, and startup idea is a just hypothesis on why a company can grow quickly. It usually has three parts: Problem, Solution, and Insight. 
The problem part is essential because no matter how great your solution or insight is, if you're not solving a real problem, then customers won't care. But what do I mean by a real problem? 
A real problem is something that occurs in the real world. It's a specific behavior of a customer that causes them discomfort. 
And I think this is where most founders go off track; they come up with an idea that does not have any implication in the real world. I made this mistake myself twice. In both cases, our idea was not tied up to any real-life behavior whatsoever.
A real problem has some exciting qualities, like frequency and intensity. Some problems are more frequent than others, like communication or getting around. And some are fairly intense: if you're running late for an important meeting, you'll gladly take that $100 ride because the potential downside is losing a $10m deal.
When thinking about problems, you can't ignore this frequency/intensity filter. If the problem is not frequent, customers just won't have many chances to use your product. And even if the problem bugs them often but is not intense, they just won't care to search for a solution because the status quo is strong. 
Let's take two famous examples:
Weight loss. Weight loss itself is a problem, but it's not a real-life behavior that people do. What's actually happening here is that people follow some method to lose weight (and in most cases, they already made their mind about the method). So if you're making a weight loss app, the problem you're solving is probably not "weight loss" but "tracking calories in my meals."

Mental health. This is my favorite one because it comes up so often. "We're in the mental health space." Again, not a problem on its own. "I feel like shit every night" is a frequent and intense problem. And, guess what, your competition might not be some other mental health app but going to a bar and having a drink with a friend. Beat that. 
A story that companies create markets is a myth.
Companies don't create markets because they don't create problems. Markets are just sums of people who have a particular problem. Problems already exist. Startups find new solutions.
Quotes
We talked about work today, so I'll leave you with this gem from Indira Gandhi:
"There are two kinds of people, those who do the work and those who take the credit. Try to be in the first group; there is less competition there."
Do the work,
Vasili