A Letter to A Friend (1/5/20)
2019 Learnings, 2020 Wishes.
Hi friend,
It's been a while. I got busy doing work and failed to keep writing. But then a few friends told me they miss the letters, so I decided to continue doing this for a year. I hope they'll be useful.
In this letter, I want to share some of the things I learned in 2019. The first one cost me six months.
In the end, there will be my only wish for you in 2020.
---
2019 Learnings
Inaction is really bad. Be decisive. Even if you're not 100% sure, taking any action is much better than sitting around strategizing and estimating options.

Sometimes you can't solve a problem by punching your head through a wall. Step back, go to nature, and do nothing. The solution will come.

Doing something every day is better than dreaming where you wanna be in 10 years. Applies to everything.

Track outputs, not inputs. This is both really hard and depressing. Measuring your own progress helps.

Don't be jealous. I don't have much advice on how to stop being jealous cause I'm still struggling with this one.

Being always-on kills thinking. You cannot think proactively when there's an endless flow of incoming information demanding your attention (content) or action (errands). Free your mind.

When in doubt, throw it away. When in doubt, there's no doubt. If it's not a clear yes, then it's a clear no.

Pen and paper is still the best productivity tool. Productivity is about doing the right things, not doing things right.

Procrastination is good. The question is not how to avoid it, but how to do it well.

If you don't know what to do on a given day, sit down and do nothing. Don't allow yourself any distractions. Don't do fake work (i.e., errands, emails, messages, comments, whatever).

Have one objective for each day. Start working on it the first thing in the morning.

Commitment is important. No impressive thing was built in a few weeks. Trust the process.

Having a strict schedule seems to work better than no schedule at all. I tried both for 3-4 months; the latter causes paralysis because of too many options. However, if a good idea pops up, do it the right way. Inspiration is a force multiplier for work.

Talking to inspiring people is great. They unleash something within you. Keep these relationships at all costs. 

Talking to slackers is very, very bad.

Spending time alone is important. Nature heals.

If you're bad at accounting, hire an accountant. There's no shame in asking for help.

Think for yourself. Most advice is bad or outdated. Try to figure things out yourself first, and then ask for advice.

Tiny things that seem insignificant at first yield tremendous results in the long run. Great customer support is one of them. The hardest thing is to stack them up and wait for years while being punched in the face every single day.

Relationships can't be built faster with more resources. Start building early.

There's a difference between things you really like and things you want yourself to love. The second type is usually covered with prestige. How to understand what you really like: ask your mom. You probably were good at it in junior/middle school.

Don't be afraid to work on what you really want to work on. The biggest regret of the dying is ignoring their dreams.
---
My only wish to you for 2020 is to take action. Here's a reminder: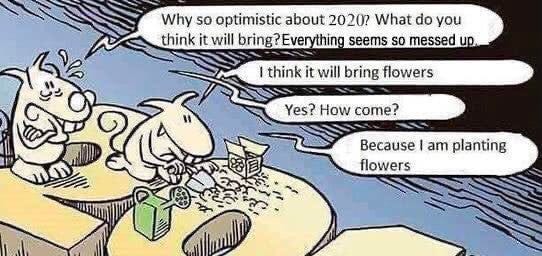 Plant flowers,
Vasili